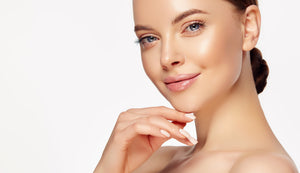 Skin-Tightening and Facial Contouring
Regular price

Sale price

$0.00

Sale
Book Appointment
Adding product to your cart
We are proud to be the first in Atlantic Canada to offer InMode's innovative and award-winning technology to provide superior non-surgical results. We are offering Evoke, Morpheus8, and FaceTite/AccuTite technology. InMode's face and neck treatments contour and improve skin texture and complexion, so you can live your most beautiful life with reduced downtime and no visible scarring.
HOW IT WORKS
InMode's facial treatments contour and improve the appearance of the face and neck. It brings more defined facial characteristics for a younger, brighter appearance. During treatment, radiofrequency energy is delivered to remodel skin, fat and tissue, as well as address signs of aging, irregularities and pigmentation. The most in-demand zones include the eye area, forehead, cheeks, mouth (smile lines), jowls and neck. InMode's facial contouring solutions provide visible, natural results to the face and neck
Evoke is a hands-free non-invasive solution to achieve skin tightening and reduction of fat to treat the double chin and jowls. It stimulates collagen and elastin production, and reduces the fat, all at the same time. This is the perfect non-surgical treatment to safely contour the face, neck, and jawline! 
This device uses radio frequency technology to deliver volumetric heating to the skin's subdermal layers. Each treatment is quick and painless. It takes 30-45 minutes and feels like a hot-stone massage on your face or neck. Depending on your objectives, we may recommend between 3 to 8 treatments. You will begin to see gradual improvement following your first few sessions. What's the best thing about this treatment? It is 100% pain free and with no downtime!
Morpheus8 is the first and only Health Canada certified technology that takes fractional radiofrequency to depths beyond anything else in the market. This award winning technology provides deep fractional radiofrequency micro-needling that delivers exceptional skin, tissue, collagen and elastin remodelling. It improves skin laxity, texture, appearance, and irregularities, and can be used anywhere on the body.
This is a minimally invasive treatment option that uses radiofrequency energy through a matrix of micro-pins to renew the deeper layers of skin with almost no downtime. Numbing cream is applied for 30-60 minutes prior to treatment. Unlike some lasers, Morpheus8 can be used safely on all skin types. This innovative technology can also be used for hard-to-treat conditions, including scars, stretch marks, and active acne. It can also be used for hyperhidrosis (excessive sweating).
Visible results can be seen within a few days, but maximal effect takes up to 3 months following treatment.  Up to 4 sessions may be required for cystic acne.
Morpheus8 on the neck
Morpheus8 for Acne Scarring
Morpheus8 for Skin Lax in the Arms
Morpheus8 on the Abdomen for Skin Laxity and Subdermal Fat Reduction
Morpheus8 for Stretch Marks
Morpheus8 on the Back for Skin Tightening and Subdermal Fat Reduction

After just a single Morpheus8 Treatment
This award-winning technology is the perfect solution for loose and sagging skin in patients who are not yet ready for a face or neck lift. This device can only be operated by a surgeon, and we are the first and only clinic that offers this in Atlantic Canada.
FaceTite is a minimally invasive technology that can be done under local anesthetic, and causes minimal discomfort. Using small port-holes through the skin, radiofrequency energy is delivered through the entire depth of the skin to give you significant skin contraction and tightening in all dimensions.  The technology is also used for fat coagulation as well. It can be combined with liposuction and Morpheus8 to provide maximal results. This will help contour the double chin and jowls. 
AccuTite is a smaller handpiece that allows treatment of smaller areas such as the under-eyes and the nasolabial folds when precision is important.
AccuTite and Morpheus8
Morpheus8 and FaceTite Neck
Morpheus8 and FaceTite Neck
DISCLAIMER
Individual results of treatments may vary from person to person