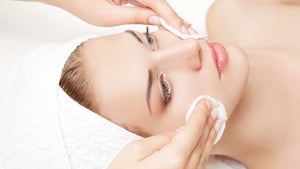 Clinical Peels
Regular price

Sale price

$0.00

Sale
Book Appointment
Adding product to your cart
Reveal younger, brighter, smoother skin, with clinical peels.
A chemical peel is an exfoliating treatment that refreshes the skin, restores luminosity, and stimulates skin renewal. It stimulates collagen production and reduces fine lines, especially under the eyes and around the mouth. 
The effect is more glowing, youthful, smoother skin with improved tone and texture. Chemical peels generally deliver more visible and corrective results than traditional facials.
There is often a negative misconception about how these treatments actually work. Chemical peels have been around for years and are proven to be safe and effective. In fact, chemical peels are the simplest and most cost-effective form of skin resurfacing, delivering visible results with minimal or no downtime.
There are many different types of chemical peels. We offer medical grade superficial to medium-deep peels depending on your needs and skin type. 
What can it treat?
Dark, dull, dry and dehydrated skin
Fine lines and wrinkles
Hyperpigmentation or brown spots due to sun damage
Uneven skin tone and texture
Enlarged and clogged pores
Melasma
Pimples and skin acne
mild acne scarring 
Scaling patches due to sun damage
Superficial Peels
Jessner's Peel
Get smoother texture and even-looking skin with a Jessner's peel. The exfoliation of the skin is produced by a combination of resorcinol, salicylic acid, lactic acid. This peel deeply penetrates the outer layers of the skin more than other superficial peels. 
Jessner's Peel can be used to treat mild or even severe acne, sun damage, mild to moderate wrinkles, and discoloration. Jessner's peel may also be used on the hands, neck, and upper chest, where the skin is thinner.
This peel is great for treatment of oily skin types, helping to control oil production, on acne prone and congested skin. Salicylic acid in the peel has anti-inflammatory properties, which can reduce redness and irritation from breakouts. Clients with sensitivity to aspirin are contraindicated for the use of salicylic acid. 
Jessner's peel may be used in combination with the other peels to improve depth of penetration. 
Salicylic Acid Peel
Salicylic Acid has anti-inflammatory properties that reduce redness and irritation from breakouts. This peel is great for treatment of oily skin types that are prone to acne breakouts. 
Glycolic Acid Peel 
This superficial peel helps renew and reveal radiant looking skin. It removes excess sebum and dead skin cells to reveal smoother, brighter, younger looking skin. Benefits include reducing pigmentation, evening out skin tone, smoothing fine lines and wrinkles, and adding glow and luster to the skin.
Medium to Medium-Deep Peel
Trichloroacetic Acid Peels (TCA) peels are a great choice for advanced pigment irregularities, sun damage, deeper wrinkles and acne scars. Jessner's peel or Glycolic Acid Peels can be combined with TCA peels to achieve a more even and deeper peel.  
Which peel is right for you?
Superficial chemical peels are a suitable choice for individuals who have never had a medical grade chemical peel, or people looking for mild correction and skin care maintenance. Superficial peels have minimal downtime.

Medium depth chemical peels will give you more visible results, but there is slightly more downtime compared to superficial peels.
The deeper the peel, the greater the results and skin rejuvenation. It also means more down time due to increased skin sensitivity, redness, inflammation, skin peeling and healing.

Medical grade chemical peels are given by licensed health professionals such as a physician. They are not the same as over- the-counter (OTC) or do-it-yourself (DIY) home peel kits that may possibly be purchased online.  For medical grade peels, a mandatory consultation with the physician is required. 4-6 weeks of home preparation is required prior to the peel. 
Chemical peels are not recommended for pregnant or lactating women or anyone who has taken Accutane in the last year. Tretinoin (AKA: Retin-A), Retinols and any face waxing need to be stopped one week prior to chemical peels.
DISCLAIMER
Individual results of treatments may vary from person to person