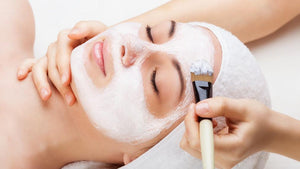 Clinical Facials
Regular price

Sale price

$0.00

Sale
Book Appointment
Adding product to your cart
Our belief is simple: long lasting comprehensive results are achieved through the combination of state-of-the-art clinical procedures, advanced homecare, and professional treatments.
At Bedford Skin Clinic, our facials are not your ordinary facials; our skin care professional performs an advanced medical-grade facial to enhance your beauty by treating the skin from the inside out, going beyond its surface to truly restore and rejuvenate your skin's health.
We are proud to offer SkinCeuticals and SkinMedica products in our medical-grade facials. You skin care professional will provide a complementary consultation to understand your specific skin needs. A highly customized facial treatment plan will be made just for you for optimal results. Each facial is highly customizable and is suitable for a variety of skin types.

Our medical-grade facials cleanse, exfoliate, extract, and hydrate skin using a combination of medical-grade products and tools.

Additional treatments add-ons such as dermaplaning may be incorporated to physically exfoliate the top layer of the skin and enhance the absorption of each medical grade product.
Signature Facial - $125 for 90 min 
Experience ninety minutes of bliss, encompassing our signature facial and leaving you feeling refreshed and rejuvenated.
Acne Medical Facial
This treatment provides a multi-modal approach to help manage the complex conditions of acne-prone skin, including excess oil, uneven texture, comedones, redness, and post-inflammatory discolorations. Skin clarifying and calming technologies are combined to help improve the appearance of surface lesions, minimize redness, and reduce discomfort associated with acne-prone skin. Also ideal for those experiencing the signs of acne and aging simultaneously.
Classic Medical Facial - $80 for 30 min
This customized service includes deep cleansing, exfoliation, extraction, a nourishing facial massage, mask application, eye and lip treatment, and a relaxing head and arm massage.
Medical Facial add on with Microneedling - $80
This customized treatment is designed to complement micro needling therapy, and is customizable according to the treatment objective.
Facial cupping - $5 add-on service
Dermaplaning - $45 add-on service
Back Facial - $85
DISCLAIMER
Individual results of treatments may vary from person to person